Remembering Austin Cloyd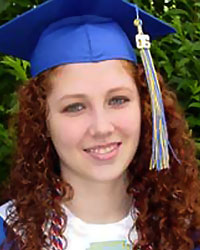 Austin Cloyd, a Virginia Tech freshman, hoped to foster peace in a troubled world by working for the United Nations. On April 16, 2007 Austin was one of 32 people gunned down at Virginia Tech in the nation's worst campus attack.
"Austin's parents, brother and extended family and friends want everyone to know that the world has lost a very special person," said the Rev. Charlotte Smith, minister of music and worship at the Blacksburg Baptist Church. Cloyd, 18, graduated from Blacksburg High School in 2006. She was a dean's list student in the honors program at Tech. She was double majoring in international studies and French with a minor in environmental policy. She was an officer in the school's International Relations Organization and a participant in the Model U.N. program.
An advocate for those in need, Cloyd spent four summers on missions with the Appalachian Service Project, where she helped to renovate homes. Her favorite task was roofing. Cloyd and her mother, Renee Cloyd, were so inspired by the group's work that they started a similar program in her former hometown of Champaign, Ill., calling it the Champaign Urban Service Project. Austin was also a member of the Champaign Centennial Interact Club.
Cloyd loved working with children, assisting with vacation Bible school and child care at her church and in the community. She taught swimming to preschoolers and served as a lifeguard in the Tech McComas Hall Student Recreation Sports Center, where she was recognized as an outstanding employee. She grew up in Champaign, Ill., where her father, Bryan Cloyd, taught accounting at the University of Illinois at Urbana-Champaign. She excelled in volleyball and basketball and was active in the First United Methodist Church in Champaign.
According to the Chicago Tribune, Cloyd's influence is still being felt at Centennial High School in Champaign, where she and her mother coached a park district basketball team. Martha Harter, who was Cloyd's mentor during her church confirmation, said she loved giving people gifts, reading and traveling. She planned to study abroad. "She was a very tall, striking young woman, and she was the kindest person. She was always sensitive and caring about other people," Harter said. "There was not a mean bone in that girl's body."
Cloyd moved to Blacksburg in 2005 when her father took a position as a professor of accounting and information systems at Tech. He was teaching in a building two classroom buildings away from Norris Hall when she was killed in Room 211 during French class. "Austin was the most wonderful daughter in the world," her father told the Chicago Tribune. Her parents asked that memorial donations be sent to the Appalachian Service Project, a nonprofit Christian ministry in Johnson City, Tenn. "Austin didn't get to complete everything she wanted to do in life, but she put a lot into her almost 19 years," Smith said. "Hopefully, her life and the lives of all those others who died will inspire other people to do good deeds." (John Cramer, Roanoke Times)